Marco starts to play organ at the age of 6, and then switches to drums and
guitar at the same time at the age of 11. Fame strikes at the age of 19 when Marco's reputation as an extraordinarily talented drummer and composer leads him to Munich. The first "crossover" band Freaky Fukin' Weirdoz offer him a position as drummer in 1992, in connection with a major deal with BMG-Ariola. The Weirdoz are the originators of so- called crossover music. The Weirdoz have a gig with Nina Hagen on the album "Mao Mak Maa" creating a fantastic cover version of Ian Dury's hit "Hit Me with Your Rhythm Stick" after which Marco was booked to play a Nina Hagen tour.
Meanwhile, Marco's reputation as a brilliant drummer reaches worldwide
attention. Prominent are his solo workshops, for example, at the Frankfurt
Music Fair, PASIC in Dallas and a solo performance at the Modern Drummer
Festival in Toronto, where Marco has the honor of being the first German
drummer to display his talents. This performance, in the eyes of professionals and music trade magazines, catapults him into the Top Ten of the drumming world. Following Drumfest, including the Australian TUDW fest and the Montreal Drumfest in Canada, Marco produces four albums with his own band Illegal Aliens. Since then, Marco has released 14 solo albums: "The Green Mindbomb" and "Comfortably Homeless", "Orchids", "Broken Orange", "Mieze", "Contraire de la Chanson","HWDATK", "A Mouth of God", "Normalizer 2′′, "Catspoon", "Evil Smiles of Beauty/Sound of Crime" and "Symbolic Fox", "EEPS" and "Celebration", which are more on par with his talents as a multi-instrumentalist, composer and producer. "Motor", "Normalizer 1′′, "Disarmed" and "Shining" come out in collaboration with the sound designer Mario Brinkmann.
Marco also co-produces and plays instruments on Paddy Kelly's solo CD,
which enters the charts in 2004, and plays on the double-platinum CD "Nena feat Nena". Marco performs and records with Paul Gilbert, Eddie Jobson, Steven Wilson,  Trey Gunn, Kreator, Necrophagist, Adrian Belew, Nena, Udo Lindenberg, Mike Keneally, Andy Partridge, FFW, Gianna Nannini, The Buddy Rich Big Band and many more.
His work as an educational book author along with Rick Gratton brings out two books including the award- winning and in many magazines as #1 voted "Extreme Interdependence". Also, one of his DVDs "Extreme Drumming" wins the polls and wins Marco a Telly Award.
He does a trio drummer tour with Terry Bozzio and Chad Wackerman in 2006.
Marco plays with death metal band Necrophagist in 2007.
Marco is featured on the title page of Modern Drummer Magazine in June/July 2007 and the Brazilian MD, August issue of 2012. In August 2008, he lends his voice to the Metalocalypse episode "Snakes and Barrels".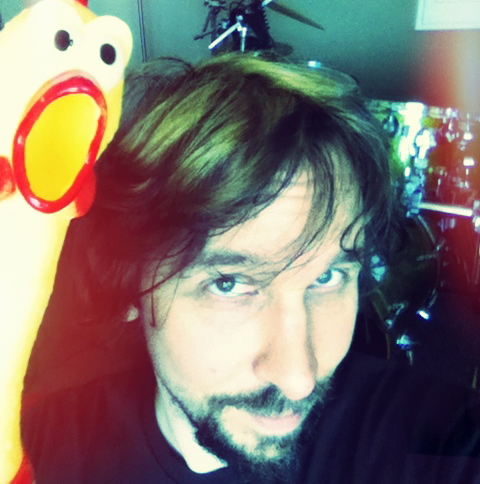 "Normalizer 2′′ is released in 2012, a concept featuring Mike Keneally, Trey
Gunn, Alex Machacek, Mario Brinkmann, John Czajkowski and Marco writing separate versions to a 51 minute drum solo. Marco tours with metal band Kreator in 2009. Marco tours in 2011/12 with Eddie Jobson of the band UK, Steven Wilson and with his own trio The Aristocrats featuring Guthrie Govan, Bryan Beller and  Marco (their debut is released 2011).
The Aristocrats' DVD "Boing! We'll Do It Live" as well as the Steven Wilson
DVD/Blu-Ray "Get All You Deserve" are released in Fall 2012, Steve Wilson
releases "The Raven that Refused to Sing" in 2013.
Marco is involved as a writer, drummer, guitar player and vocalist on the LMR project (Levin Minnemann Rudess). The debut album was released in Sept. 2013 and stayed for 2 months at #1 in three different categories on
amazon.com and made into several best of 2013 Top 5 polls.
In 2014, Marco's album "EEPS" is released. Also the Aristocrats are putting out their second album "Culture Clash" followed by the DVD release "Culture Clash Live", which was filmed in 7 different cities around the world.
Marco plays on Steven Wilson's "Hand.Cannot.Erase" album, which is
released in February 2015, followed by a tour.
Marco's album "Celebration" is released in June that same year.
He records for Joe Satriani's album "Shockwave Supernova", hitting the
markets in the summer, which season also sees the third Aristocrats album, "Tres Caballeros" and another Marco Solo album titled "Schattenspiel".
Both Aristocrats and Joe Satriani releases are followed by an extensive world tour 2015/2016.
In 2017 Marco releases the concept double disc package BORREGO, which
can be viewed as a soundtrack to an imaginary movie about the hauntingly
beautiful Anza Borrego desert. BORREGO also features JOE SATRIANI and
ALEX LIFESON from the band RUSH on guitar.
By the end of 2017 Marco performs a trio tour in India alongside Mohini Dey on Bass and Vocals and Rhythm Shaw on guitar and vocals, playing material from each of their calalogue. Furthermore the writing and recording sessions for the supergroup THE SEA WITHIN started following the release and live appearance at the Loreley fest in support of their debut in 2018.
In early 2018 Marco performs a 2 day sold out special event alongside
Australian guitar player PLINI and Mohini Dey, performing a set list of each
others selected music.
2019 sees multiple releases and tours. The MAHANDI album, which features
Dewa Budjana, Mohini Dey, Jordan Rudess, John Frusciante, Marco
Minnemann and Mike Stern is getting released.
Further releases this year include third MUTE GODS album 'Atheists and
Believers', JORDAN RUDESS 'Wired For Madness' and a collaborative special
12" picture vinyl disc by MARCO MINNEMANN and ALEX LIFESON titled
'Lovers Calling'.
Marco performs on the annual YES lead event 'Cruise To The Edge' back to
back with the 'On The Blue Cruise' with 3 different bands: THE SEA WITHIN, In CONTINUUM and STEVE HACKETT.
2019 also sees the release of the 4th album by THE ARISTOCRATS, titled
'You know what… ?' and Marco's 2 CD set 'MY SISTER', to be released by the
end of this year.
THE ARISTOCRATS will embark on a world wide tour starting in mid 2019 in support of the 'You know what… ?' album.